St. Kitts and more
ST. KITTS – Port Zante. NEW Cruise Port REVIEW was just published. Along with new UPDATES in the Caribbean and US – Key West, Miami, Nassau, Cozumel ..
Introduction to Basseterre (St. Kitts)
Docking, Piers, Tendering, the Historical Town.
Port Zante – Docking and Tender
St. Kitts Island and its port – Port Zante (as it is officially named) – has become in the last years one of the most popular and loved cruise port destinations in the Caribbean Eastern Itineraries.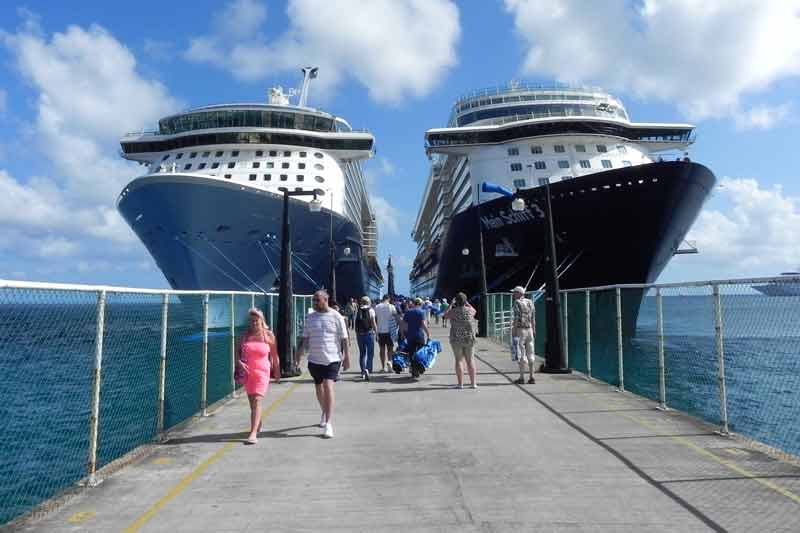 Port Zante Pier in St. Kitts
Photo © IQCruising.com
Since 2005, when Port Zante started to be developed with a long pier, all major cruise lines have included St. Kitts in their itineraries. The construction of a new pier will be finished soon (early 2018) and the cruise lines that haven't yet called at St. Kitts will be visiting the island in the near future.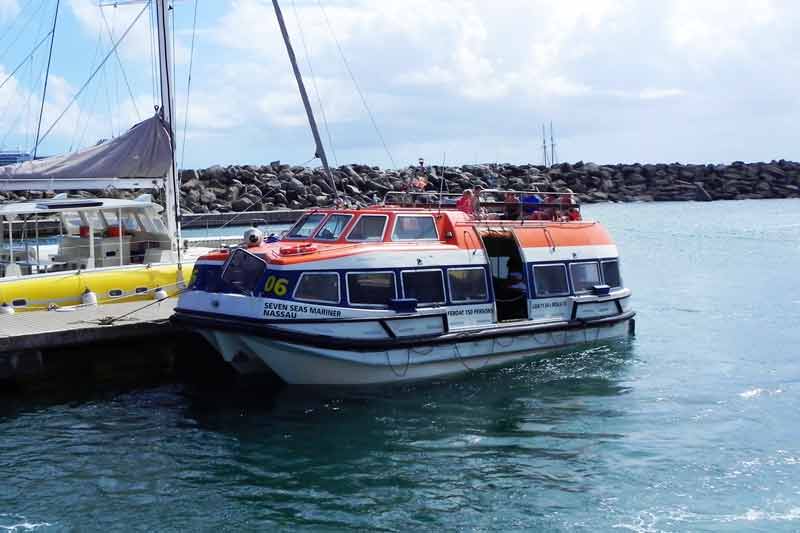 Tender in Port Zante, St. Kitts
Photo © IQCruising.com
But do not think that all cruise ships will be mooring at these piers. As it happens now, if there isn't enough space to dock at a pier – and the future one -, cruise ships will anchor at the Basseterre Bay (where Port Zante is located) and tender boats will transport passengers to the yacht marina close by (less than 200 yards from the piers).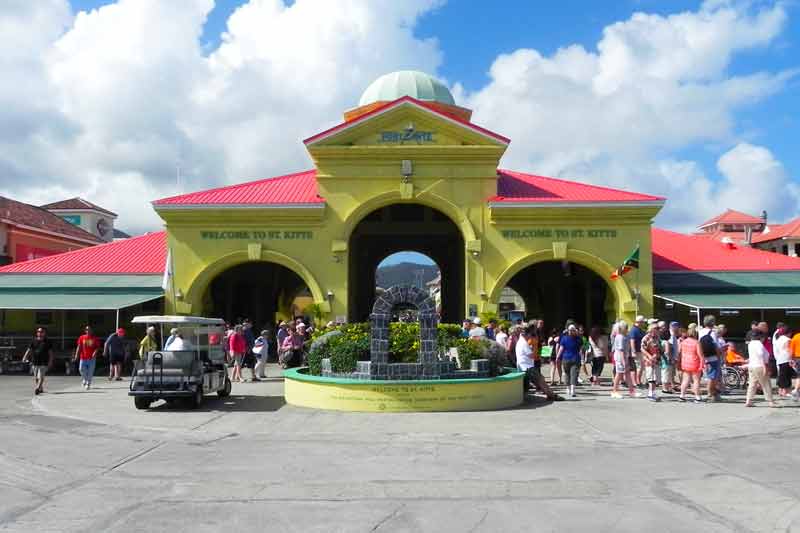 Arrivals Hall of Port Zante in St. Kitts
Photo © IQCruising.com
---
The Terminal of Port Zante
There are many reasons why St. Kitts has become such a successful cruise port in the Caribbean. One of them is the fact that Port Zante has a wonderful setting and has been very well developed – similar to the Historical Port in Falmouth, Porta Maya in Cozumel or Grand Turk. The proximity of the port to Basseterre (the Capital of St. Kitts) is another reason why so many cruise travelers love St. Kitts, specifically because it is safe, local population is very friendly and the city has a few interesting landmarks to explore on your own.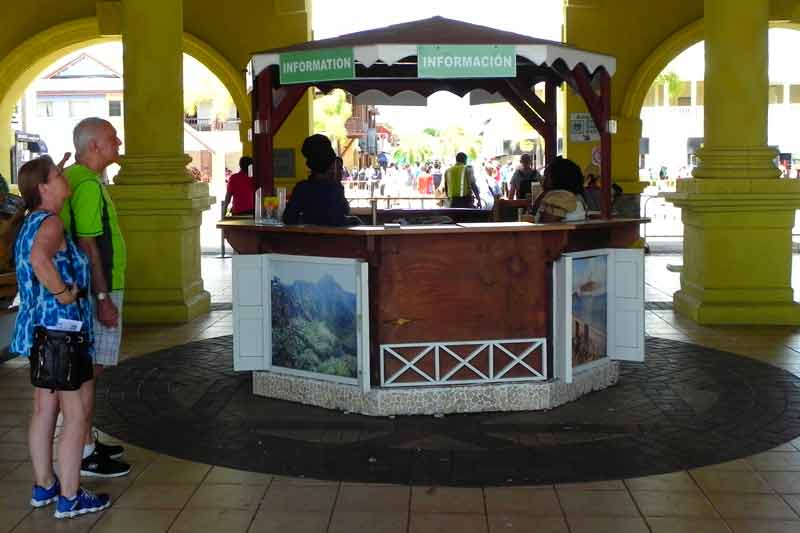 Tourist Information Kisok, Arrivals Hall
Photo © IQCruising.com
After disembarking the ship and walking the pier, the cruise traveler will enter the 'Arrivals Hall' building where a tourist information kiosk, restrooms, and tour dispatch are found – and boarding cards are controlled on the way back. The Arrivals Hall opens into a large square lined with the typical Duty-Free shops found all over the Caribbean cruise ports – Colombian Emeralds, Effy, Diamonds International that, surely, your onboard shopping guide will endlessly promote before arriving in Port.
Bar in Port Zante
Photo © IQCruising.com
There are three pedestrian pathways out of the square, all lined with shops, but the larger one right in front will take you to a smaller square with the Rum Barrel Bar at its center and, as you may have realized by now, lined by shops and more shops. The Rum Barrel is just one of many bars in Port Zante.
Shopping Street in Port Zante
Photo © IQCruising.com
From this square, there are some possible paths: turning right will take you to the Taxi Terminal (ideal if you planning to go to a beach or tour on your own), to the left another path lined with shops will lead to the National Museum and the nicest exit into the Historical Town of Basseterre. The latter exit is the Editor's recommendation if you wish to explore the Historical part of the city. This exit is, in fact, an archway trough the Museum – a must see ($3.00 entrance free for children under 12).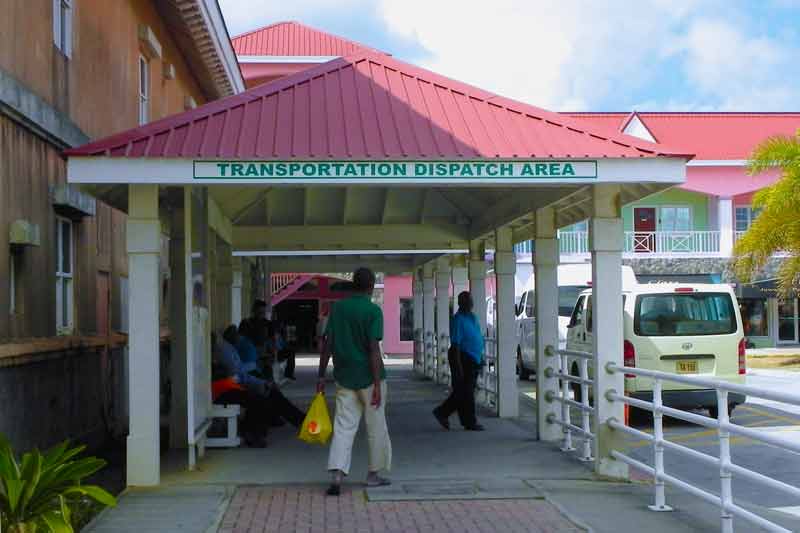 Taxi Dispatch in Port Zante
Photo © IQCruising.com
Most cruise travelers enjoy spending some time in this vast pedestrian area of Port Zante with all sorts of Duty-Free shops but also a few nice bars and restaurants. It is a nice place to hang around before returning to the ship after a tour, a day at the beach or an exploration of the Old Town.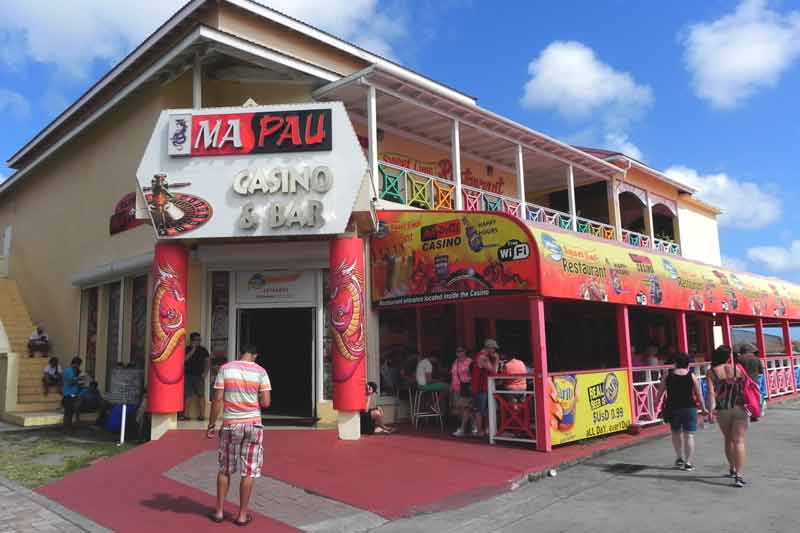 Bar in Port Zante
Photo © IQCruising.com
---
Excursions and On Your Own
Most excursions offered onboard – shorex – have tours to the most famous highlights of St. Kitts. In the descriptions of these excursions you will surely find places like the Brimstone Hill Fortress National Park, the Historic Romney Manor, the Clay Villa Plantation, the Amazing Grace Experience or the Timothy Hill. And also very popular tours such as the Scenic Railway ride, to Friars Bay or Frigate Bay to spend some time on the beach and/or enjoy all types of watersports.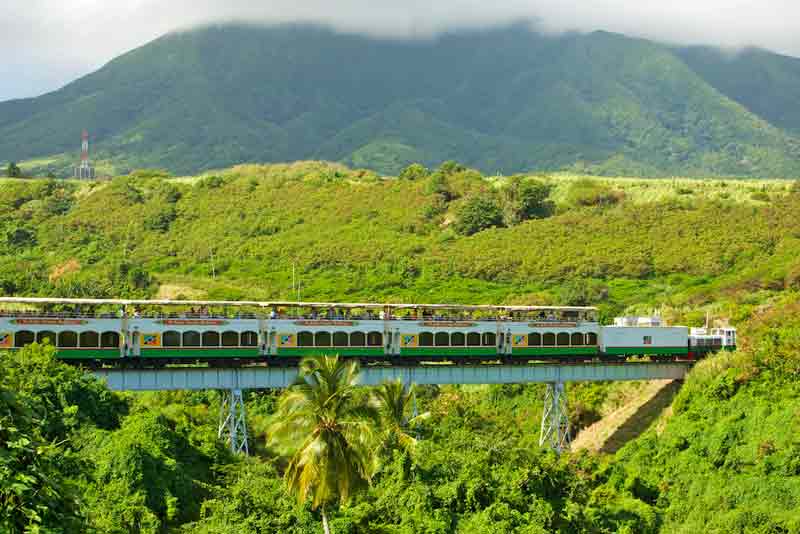 Scenic Railway in St. Kitts
Photo: Public Domain
Many a cruise traveler feels more comfortable to book the onboard excursions and there are many to chose from. But you can also explore most of these attractions on your own with a taxi driver – official rates are regulated but it is always advisable to double-check before entering a taxi. Going to one of the beaches, where bars and watersports can easily be found, couldn't be easier than with a taxi – just get one at the Taxi Terminal.
---
Basseterre Historical Town
National Museum in Basseterre
Photo © IQCruising.com
If you wish to explore the landmarks of the Historical Town of Basseterre remember to exit through the National Museum archway into Bay Street. This will be the first time since leaving the ship that you will see cars on the street – be aware that driving in St. Kitts is like in Britain (on the left) therefore make sure you look right before crossing it. The street right in front of Museum's exit is Fort Street, it is one of the major streets in Basseterre and you will not miss a green iron clock tower – aka Berkley Memorial – just one block down at the center of the 'Circus' – a small and iconic square.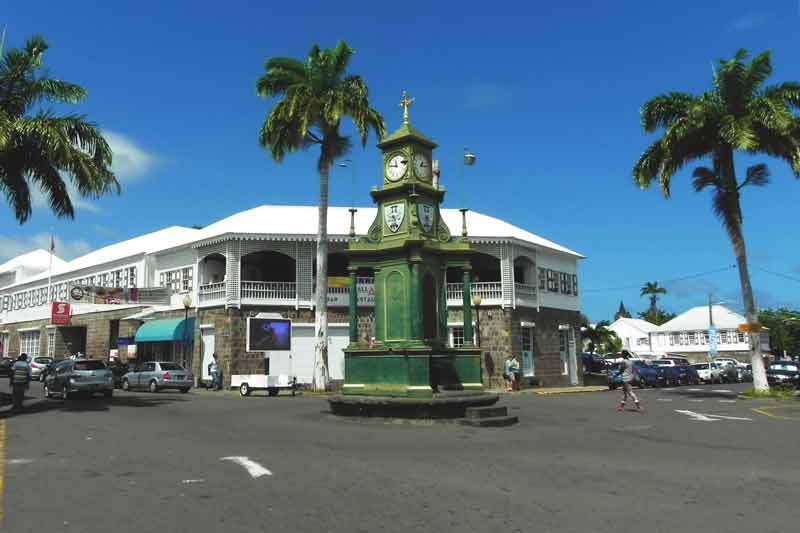 Berkley Memorial in Basseterre
Photo © IQCruising.com
To the north of the 'Circus' (continuing on Forth Street) the St. George Anglican Church and the Wesley Methodist Chruch are two major landmarks that those wanting to explore the Caribbean past will enjoy – specially the Anglican Church that is open to visitors and has an interesting interior.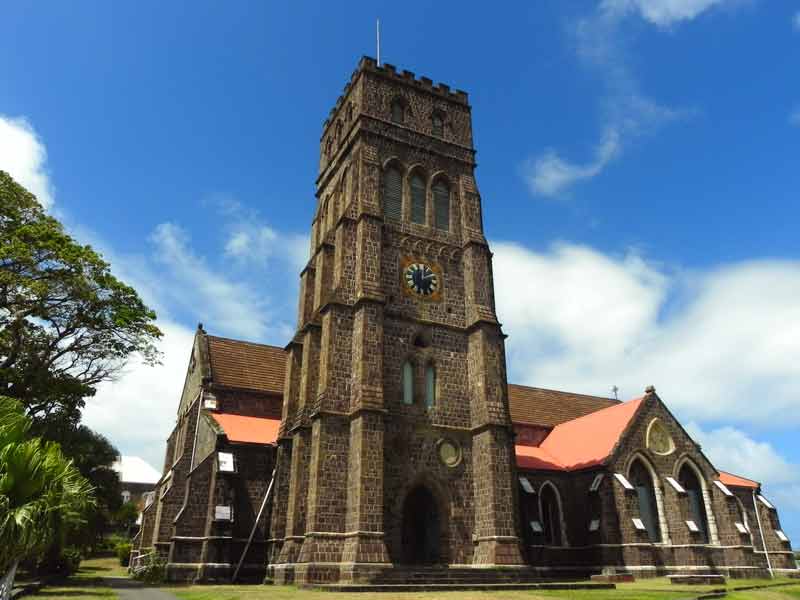 St. George Anglican Church in Basseterre
Photo © IQCruising.com
To the East of the 'Circus' (right), Central Street leads straight to the Independence Square. This historical landmark, once named Mall Square, is where the old slave market took place. Besides its greenery, the Immaculate Conception Catholic Co-Cathedral is its main attraction – open to visitors, this church is a reminder of the French colonial past and its religious influence in St. Kitts.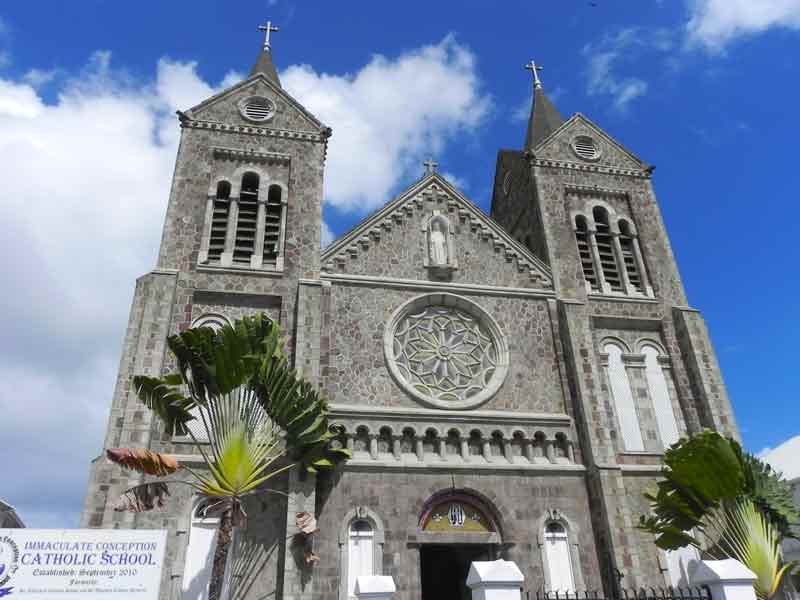 Immaculate Conception Catholic Co-Cathedral in Basseterre
Photo © IQCruising.com
Independence Square in Basseterre
Photo © IQCruising.com